creation, design, manufacture, storage and dispatch processes
Ceracasa has one of the most modern facilities in the sector for the manufacture, management and logistics of ceramic products such as Emotile by Ceracasa ©. For this, it has an area of more than 130,000 m2, in which the processes of creation, design, manufacture, storage and dispatch of the different products are carried out.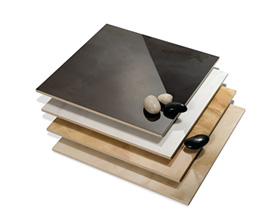 New products
All products manufactured by CERACASA offer:
Durability
Resistance to: detergents, fire, acids, bumps and impacts
Hygiene: Easy to clean and without absorbing odors
Great beauty in all their versions
(polished, satin, mate and antislip)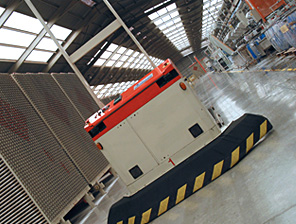 Advanced technology
The manufacturing process of the CERACASA products is very advanced as it applies the most cutting-edge technology on the market: laser guidance, integrated home automation, decoration by digital injection, classification by artificial vision and control by specific program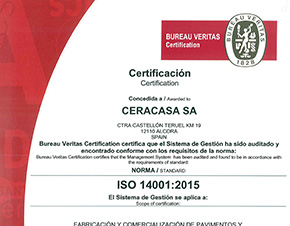 Quality Control
Our internal factory laboratories carry out a raw material input control, traceable quality monitoring and finished product control, to give our products a high quality. Likewise, external laboratories periodically evaluate our products and guarantee them through technical certificates.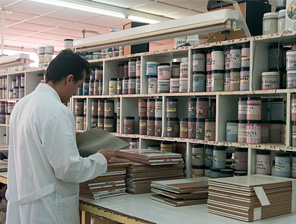 Laboratory
According to a studied formulation, the raw materials are mixed, mainly: clays, feldspars, feldspathic sands and, sometimes, kaolin and additives. The pigments to give the color to the tile body vary according to the model and are added in a post-atomizer process.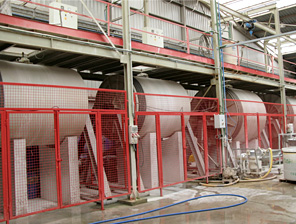 Alsing type mills
This mixture is carried out in ALSING type mills, which is ground by friction and with a controlled loading of alumina balls until obtaining a mixture of a dense liquid called barbotina. This barbotina contains the formulation that will give us the type of product (porcelain or white body) and is stored in rafts.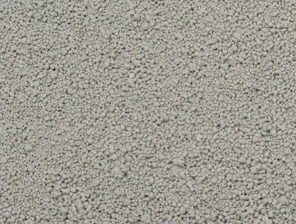 Atomizer
Once the barbotina is grounded, the moisture is extracted through the Atomizing process. As its name suggests, it is atomized by hot air. This soil, with a humidity between 5–6%, is stored in silos for later pressing.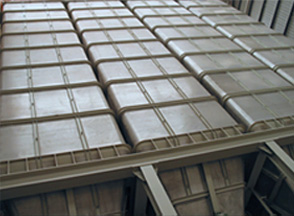 Silos
Once the product is atomized, it is stored in silos waiting to be transported for the pressing process.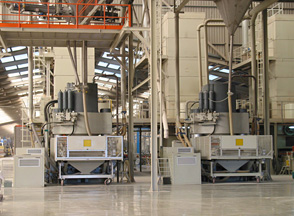 Presses
Once we have the atomized soil, it is pressed in the Press Section at high pressure to compact it and leave very few gaps between the particles (which gives the product its great hardness and zero porosity, especially in porcelain). This section has the best pressing machinery, from small formats (33 × 33 cm) to large formats (49.1 × 98.2 cm), with the possibility of reaching even larger formats.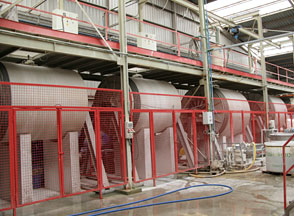 Drying areas
In this phase the piece has a humidity (between 5–6%) that must be eliminated in a dryer area. At a constant temperature, the humidity is reduced to practically zero before being decorated on the glazing or decoration line.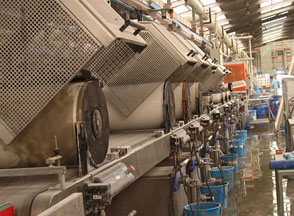 Decoration Lines
The decoration lines have a length of more than 150 meters. In them, a layer of enamel is deposited on the dry and hot support. Later it can be decorated by digital techniques.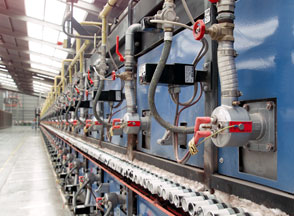 Kiln
The decorated pieces, still uncooked, go to the Kiln section. In the Kiln section, CERACASA ceramic products are given the final qualities as a product, sucha as their high resistance and low porosity in porcelain.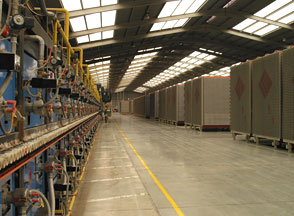 Firing temperatures
The raw piece enters through a part of the oven that is 115 meters long and by means of rollers that rotate on an axis, it moves through its interior and receives different temperatures at different times (firing curve) that lasts between 45 and 70 minutes (firing cycle). In the course of this cycle the piece reaches 1200 ° C. With these temperatures the porcelain reaches the aforementioned great properties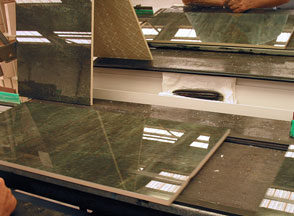 Finishes
Once the porcelain is fired, we obtain the enamel raw finish: matte, satin or anti-slip. CERACASA offers exclusively the HIGH GLOSS polished finish to make all spaces even more beautiful, if at all possible. The pieces enameled with special grains (granilla) are polished with abrasive machinery of more than 50 meters in length with moving bodies, which in a continuous way gets an unmatched shine.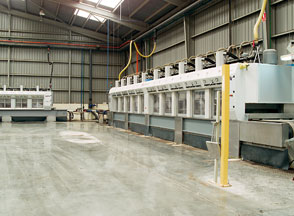 Polishing Machinery
These machines are called polishers. For greater comfort in placing and handling the pieces, they are also rectified and bevelled one by one, automatically toned and packaged together for subsequent shipment to the warehouse.
This is the way we close the manufacturing process of the CERACASA products
A ceramic product perfect for any architectural project with the CERACASA brand guarantee.